Maya Women Provided Indigenous
Language Services at U.S./Mexico Border
The Maya Women Interpreter Delegation traveled to Tucson Arizona with allies on April 24th- 28th to provide Indigenous Language Services at Casa Alitas, at the U.S./Mexico border. We express our deep respect and gratitude to Alida, Maria, and Nana Teresa - the Maya women interpreters of this delegation who are elders, healers, mothers, and aunties. Thank you for sharing your linguistic and cultural expertise while facing your own personal histories of migration. We are incredibly grateful to Alianza Indígena Sin Fronteras, a partial sponsor of the delegation, for reaching out to us initially and connecting us with Blake Gentry/Ama Consultants and the Office of Indigenous Languages. To Blake Gentry/Ama Consultants, thank you for your steadfast support and commitment to language rights and language justice and for the work of the Office of Indigenous Languages which is one of the few spaces working to advocate for indigenous language rights. Ama Consultants was instrumental in coordinating housing and transportation for our team, thank you to Kate, Katherine and Dorsett for graciously hosting us in your homes. To Professor Roberto Cintli Rodriguez, thank you and the Maya Maiz Roots Conference for the kind invitation to participate in such a historic gathering! We are humbled by the commitment of our volunteer team and the technical support including Janet Hernandez who applied her previous production skills and coached the interpreters for filming these critical videos; Lorena Brady for logistics planning, fundraising and delegation coordination; and Juanita Cabrera Lopez's leadership and vision which guided this process. The delegation was the first step for future actions – this is just the beginning of broader strategic work. Last but not least, to our dozens of individual donors, we could not have done this without you! Your support and belief in our work was incredible and your energy was with us, THANK YOU.
The International Mayan League has been working with our community, the Maya diaspora, for many years. In the last two years we have built up our indigenous interpreter skills and leadership capacity to defend our communities with the support of many people along the way. However, as the situation at the border has escalated and Maya children and youth have either died or been killed, the media when reporting their deaths has often failed to shed light on the indigenous identity of the victims. We say their names: Claudia Patricia Gómez González (Maya Mam); Jakelin Amei Rosmery Caal Maquin (Maya Q'eqchi'); Felipe Gómez Alonzo (Maya Chuj); and now Juan de León Gutiérrez (Maya Ch'orti'). Additionally the particular vulnerabilities and context faced by indigenous children and youth within forced migration has not be part of the narrative. Our people have remained invisible in plain sight despite the high profile deaths that have occurred, simply because the dominant narrative has mislabeled us as Latino or Hispanic. There is a deep misconception and confusion about our people amounting to a lack of awareness that we are part of the wave of forced migration, resulting in a critical void in specific resources and tailored assistance.
In Tucson, with our team of Maya leaders and allies, we worked to provide direct language assistance to families. However, a large influx of families that soared to about 400 people in one day, resulted in many being sent to additional emergency shelters in different locations prior to our arrival. Due to this unforeseen circumstance, we were not able to meet with as many families at Casa Alitas as previously anticipated. Nonetheless, while at Casa Alitas we were able to assess that most of the families at that moment were from Guatemala, the majority women and children including toddlers.
We also participated in a consultation process with front-line workers to jointly assess the needs faced by our indigenous relatives. One of the key outcomes of the consultation was the identified urgent need for the creation of indigenous language resources that could be used even without the presence of an indigenous language interpreter. Because of this critical need, the Mayan League delegates spent the majority of the time working with Ama Consultants on the development of several Know Your Rights video tools in indigenous languages that will be used for an audience of children and adults in various centers in Arizona. This is a relatively new methodology and much time was spent consulting with the Maya linguistic and cultural experts to ensure accuracy in vocabulary and that the process and outcome were culturally appropriate and relevant.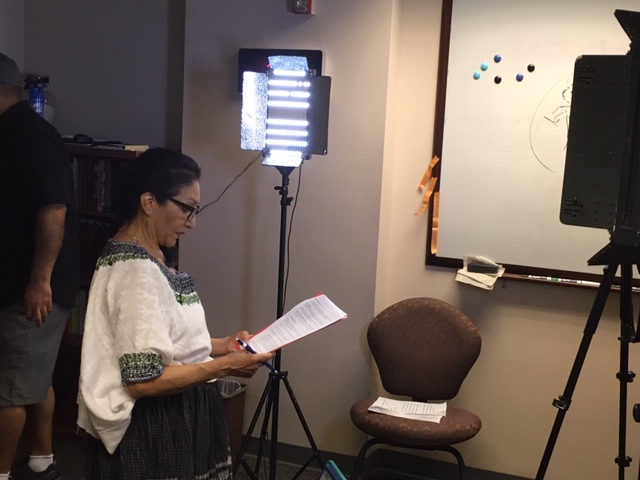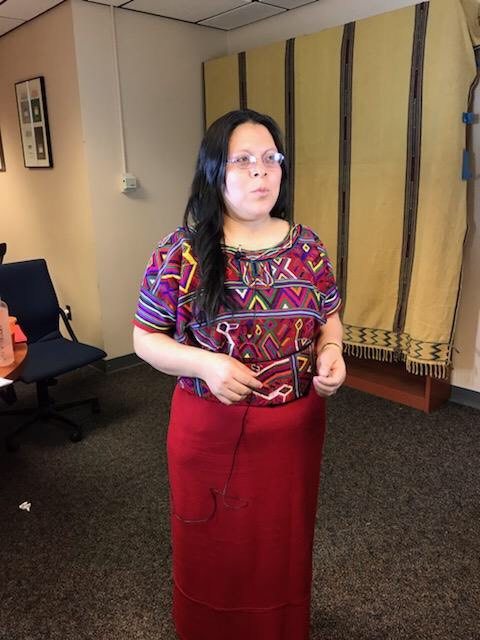 The direct engagement with our families, consultation with front-line workers, indigenous peoples and organizations culminated in a joint meeting between the International Mayan League and the Indigenous Alliance Without Borders where agreements were made to continue collaboration and join moral forces as two long-time indigenous organizations dedicated to the rights of Original Peoples. The meeting generated a rich first point of contact and information that helped create a draft roadmap of needed work including: a) Development of indigenous language materials and resources; b) Increased trained indigenous language interpreters; c) A policy strategy from an indigenous human rights perspective focused on indigenous rights and language justice ; d) and the use of international human rights mechanisms for advocacy and action. Specifically a first point of work between the Alianza Indígena and the Mayan League is to collaborate on a statement related to the protection of indigenous rights on the U.S.-Mexico border in Southern Arizona, which will be submitted to international bodies. As part of this effort, Nana Teresa and Maria recorded comments related to the importance of protecting Indigenous languages, which will be included as video links within the statement so that knowledge keepers and language speakers of the Maya people can speak directly to International authorities.
We know this human rights crisis facing our indigenous relatives is long-term. Spending even just a brief moment with our families and allies in Arizona further confirmed this. The harmful effects of the last several years of inhumane immigration policy will require long-term solutions to address and undo the harm felt by thousands of children and families. Want to support these efforts? We are always looking for volunteers and are currently looking for a social media intern! You can write us at info@mayanleague.org for more information. Please Join us as we continue to strategize and develop an indigenous led response!